Frightwig Are Pleased To Announce Distribution Deal with MRI Entertainment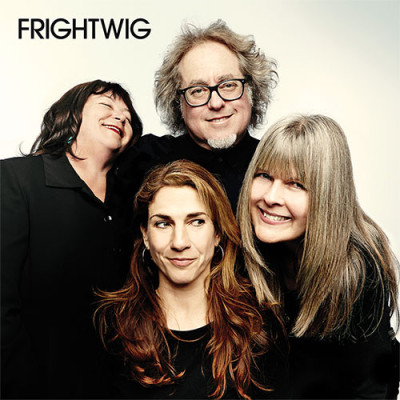 Frightwig release their War On Women/Hear What I Say Limited Edition 7" vinyl 45. The all-star line-up features founding members Deanna Mitchell on bass/vocals, Mia d'Bruzzi on guitar/vocals and secret weapon Cecilia Kuhn on drums/vocals, who are joined by the legendary Eric Drew Feldman on magical keyboards/vocals!
Release Date 9/16/2014. Produced by Eric Drew Feldman, the two songs are presented in the only way that Frightwig knows how: rocking, snarling, blasting, prowling, and honest.
Frightwig has returned with a vengeance to the center stage.
---
'More valid in today's world than the one in which they created all things riot.
Frightwig are a wallop of power and love and smarts and sexy, all in the way only a city like San Francisco can deliver.'
– Roddy Bottom Imperial Teen/Faith No More
"Hallelujah Brothers and Sisters! Frightwig is back and bringing their rock and roll message of freedom and empowerment to all.
I've borne witness to this revival and it is a glorious thing to behold. Long live Frightwig!"
– Steven McDonald, of Redd Kross & OFF!
"What fool said there are no second acts in American lives? Frightwig, the great femme-psych band of the pre-grunge, pre-grrrl Haties,
are back with their wits, talons, and riffs as sharp as ever, ready to shred the lies and liars of the, sadly, still-raging war on women."
– Evelyn McDonnell, Writer/Author