Unless you were into very underground punk in the early '80s, you probably don't know Frightwig–but you should. They were perhaps the first all-female DIY punk band, and they blazed a trail from San Francisco across the U.S. in the name of feminist rock 'n' roll. Along the way, they influenced younger musicians like Courtney Love and Bikini Kill, planting an early seed for the riot grrrl movement that followed in the '90s.
The chemistry of Frightwig has changed a bit with Eric Drew Feldman on keys, but singer and bass player Deanna Ashley Mitchell, who turns 56 Tuesday, remains an outspoken fighter for women's rights. She's leading Frightwig in an East Coast crusade that kicks off Monday, Sept. 8, at The Knitting Factory (with Jane Lee Hooker also performing) and culminates in the We Are Women Constitution Day Rally next weekend in Washington, D.C. We spoke to Deanna about women in music, women's rights in America, and male strippers.
How have the roles of women in the music industry today evolved from when you started?
When we were touring a lot [in the 80s], it was a rare thing to have a female band. There were The Go-Gos and The Bangles. Of course Joan Jett was doing her thing. The Runaways were done. But it was pretty limited for female bands, especially ones who got in a van with their equipment, traveled across the country, sleeping at people's houses, making t-shirts on people's lawns. You know, the DIY method. That's what we did. And we played with all these male bands that were gentlemen to us, and we were treated well, and we were respected…We were kind of protected by them, in that they were like big brothers to us.
It was a pleasure for me to watch women coming up in the ranks…Still, you don't see [women] at all these [music] festivals. It will be like one [female] band or two female artists and then twenty male artists or groups. I enjoy watching women rise up and and have fun and get out there and just be free and freaky and create their art and their music.
Emilie Autumn made the point a couple years ago that one attitude toward women's rights today is like the old cigarette ads that said, "You've come a long way, baby." The implication is, you've come so far, you should be grateful for this progress instead of continuing to be assertive because things are still unequal. Does that resonate with you?
It does resonate with me, and I remember those cigarette ads. In that time, it was a more comfortable position, and you did feel like hey, baby, you've come a long way, and things were moving forward. In Frightwig, a lot we did was pushing the boundaries for women and doing things that were not acceptable. We got heckled [with], "Show us your tits," so much, but we turned that energy around with our funk song "A Man's Gotta Do What a Man's Gotta Do". We'd have guys get up onstage and strip for us. It turned into this kind of phenomenon with us, which was ridiculous. We didn't really care about seeing anyone's penis or anything. It was for the art. It added a bit of theatre.
But it's an interesting time for women right now, and it's an important time. I'm on the down side here in this cycle of life, and what I'm very happy to see is young women paying attention. I think young women are being threatened, and word's out. I think these political so-called leaders, in the big picture, have really shot themselves in the foot because women are waking up, and women are not going to take this crap.
What women's issues get you the most riled up?
When I was a young woman, the women's movement was very active, and women's rights were kind of in place. That went away, in a lot of ways, for me, because I felt safe. And I do not feel safe anymore for women. I think it's just mostly these old white men across the country or these young upstarts who want to make a name for themselves that want to control our bodies. We don't have equal rights, so we have no right to have equal pay. Ratifying the ERA is a huge deal, and yet it's such a simple deal. All it does is give us equal rights. So I'm pretty pumped up about the ERA and then a woman's right to make her choices for her body…I don't like being controlled. I am happy I'm an American woman because I do have more freedoms, but I feel like those freedoms are in jeopardy.
Are we going to see any men stripping onstage Monday night?
We've been having a unicorn dancer, so we might have a unicorn onstage with us in Brooklyn. It all depends how we feel, but I will be traveling with my unicorn head.
By Jeanne Fury
Frightwig are the reigning mothers of feminist punk in America, whose wildly unrestrained performances heavily influenced everyone from Courtney Love to Kathleen Hanna. Formed by bassist/singer Deanna Mitchell (née Ashley) and guitarist/singer Mia d'Bruzzi (née Levin) in San Francisco in the early '80s, Frightwig delivered two undisputed punk classics early in their career: 1984's Cat Farm Faboo and 1986's Faster, Frightwig, Kill! Kill!. Their music pounced on gender politics with gusto; songs like "My Crotch Does Not Say 'Go'" and "A Man's Gotta Do What A Man's Gotta Do" were both deadly sinister and outrageously hilarious—two adjectives that, not coincidentally, describe Frightwig's drummer/singer/instigator Cecilia Kuhn.
After a much too long break from stirring up shit, Mitchell, d'Bruzzi, Kuhn, and new addition Eric Drew Feldman (keyboardist/producer) recently reformed and delivered an EP, Hit Return, in December 2013, and are releasing a 45 this summer through Megaforce Records.
Here's Kuhn on drumming, feminism, and the true definition of punk.
Stats
Full Name: Cecilia Benedicta Kuhn
Age: 58
Hometown: Sacramento, CA
Lives in: Downieville, CA
Past Bands: various garage bands
Current Band: Frightwig
Day Job: court clerk
Kit Setup: borrowed Rogers kit, snare, kick, 2 toms, 1 floor tom; 2 crash and 1 ride cymbal, plus hi-hat.
Tom Tom Magazine: What was it about the drums that you gravitated toward, and how did you first start drumming?
Cecilia Kuhn: It was something I never admitted, but I liked the sexual energy of a good beat. All of my favorite songs when I was growing up had a strong rhythm. I'm thinking of songs like "Wild Thing" by the Troggs, "Magic Carpet Ride" by Steppenwolf, and "Amos Moses" by Jerry Reed. Those songs could just GET me. However, I came to drumming by sheer whim.
I was working at a crap job and feeling very disillusioned with my life. Thank Gods for discontent, because it can be a great motivator. I was sitting there, contemplating my boring life and flying into L.A. I looked out the window as we were landing, and I said, "Fuck this, I'm learning drums." I started drum lessons soon after that. Playing drums just seemed like a good antidote to the stupid life I was leading. Little did I know what a major decision that was.
I feel like you're one of those musicians that undergoes a transformation onstage. You tap into an otherworldly power source. Can you describe what that's like?
Back in the old days, I was always angry. We have a song ("Punk Rock Jail Bait"/"I'll Talk To You & Smile") where I come out from behind the drums and sing out front. I basically melt down. Back in the day, when I blew up onstage, I was actually experiencing the anger. Frankly, I think I was trying too hard back then. Today, I am in a contented place, and I'm not angry like I used to be. When I blow up onstage now, I don't have to try too hard. In fact, I'm not trying at all. I'm remembering what that energy feels like, and I draw it up and experience it.
As a drummer in a pioneering feminist band, how were you received by your (presumably mostly male) peers?
Back then, I definitely used to get guys "complimenting" me, saying that I played real well for a girl. Meaning, I didn't play better than any of the guys. There seems to be an automatic comparison or competition going on, and some people feel like it's real important that I understand my place in the hierarchy.
Going to music stores was very intimidating, as the sales clerks would ignore me or almost challenge me when I tried to buy equipment. It was a strange thing. I'm in there to spend money, but capitalism seemed to fade in importance. Making their point that I was just a girl became more important than making their sale. It made no sense. Apparently patriarchy overrules capitalism.
I remember one time, I went into a big chain (the name rhymes with Sitar Renter) and I needed to buy sticks for the gig that night. The sales clerk was talking to his friend, another drummer. They were doing some competitive dick-waving and talking about recordings they'd done. They talked like this for a LONG TIME while I stood there, waiting. I was completely ignored.
Finally, I said, "You know, whenever I want to FEEL LIKE SHIT, I know I can come here. I wanna buy some sticks 'cause I'M PLAYING TONIGHT." They stared at me like dogs looking at a snake.
Were you ever discouraged, or was the punk scene supportive of you and your band?
Generally speaking, Frightwig was not always well-received by audiences, but other bands were supportive. When people loved us, oh man, they just loved us! When we toured with the Butthole Surfers, it was a dream come true. They and their audiences totally understood us. But when we opened for hardcore bands, it seems the kids just did not have a sense of humor. "PLAY FASTER!" That's all we heard. I remember opening for TSOL in Santa Cruz. Everyone was standing around, sullen, with their arms crossed. In between songs, Deanna yelled, "Is everybody having FUN?!!??" Someone answered, "We will when you get off."
Today, some people think that punk equals hardcore only, and their focus is narrow. There's a lot of ghettoization of the music and not much cross-pollination like a long time ago. In the old days, punk was so many things. A night at the Mab [Mabuhay Gardens] would be a free-for-all. There was a lot of humor and fun. We had the philosophy of "IT'S PUNK BECAUSE WE SAY SO." People could benefit from that philosophy today. My music is punk because I say so.
I saw you on a panel about female drummers at the Musicians for Equal Opportunities for Women conference, and you said, "I am not Omar Hakim. I am not the best drummer, but I'm the best drummer for Frightwig." How did you cultivate that confidence and assuredness as a drummer?
It came out of experience. I don't say it out of ego, I say it from knowledge of these complicated personalities in Frightwig. When I'm not there, it's just different. When I wasn't playing with Frightwig and they got other drummers, they missed me and felt the absence of my energy. Their recordings were great, really good, but there was a difference. When I play with Frightwig, it feels right, and I know there are certain things I contribute that no one else does. So yeah, I'm the best drummer for Frightwig. In addition, they're the best for me. They know me. They have a certain humor and energy that I really like. I like playing with them, and I love to anticipate what they'll do to make me laugh.
For me, the way to cultivate my confidence is through practice, studying theory, and writing music. I just hang in there. Don't say no. Say yes.
---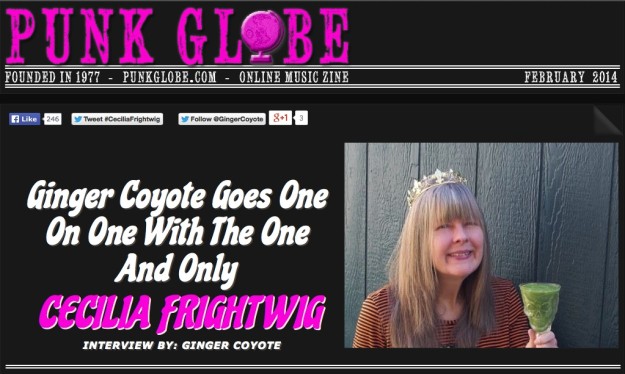 ---
Val Vale Re/Search Magazine News: 
PUNK HOMECOMING 2013, Sat-Sun Sept 21–22 at The Verdi Club:
"We will note that our personal high point was the Frightwig concert wherein some spectacularly-dressed-and-costumed people "crashed" the stage and participated in an anarchic Iggy Pop-like singalong."
---
The Boulevard Ear 9/21/13: Raging in a Quiet Corner:
"Where bands (and fans) from the past are concerned, one can count on a picturesque crowd. The question is always the music: do the players still have something to say, and can they bring it with gusto?  Frightwig was one of the SF punk scene's most aggressive and eccentric bands. Barely acknowledged in their time, they are now credited with providing the spark for rriot girl and subsequent significant musical currents.
Before they played a note, their words of greeting made clear that the years have not dulled Frightwig's edge. They bench-pressed their set, punching out their fluid mixture of garage punk, metal and art grunge with a relentless blend of joy, humor and rage…the explosive triumph of Frightwig…"
---
San Francisco Examiner  Oct. 11, 2013
By Tom Lanham
When she formed Frightwig three decades ago, Deanna Mitchell had no idea how crucial her all-girl garage-punk combo would become. But with two great albums —"Cat Farm Faboo" in 1982 and "Faster, Frightwig, Kill! Kill!" in 1983 — the band blazed a trail for female musicians and helped launch the riot grrrl movement. By 1994, after countless lineup changes (including a stint by Paula Frazer, of Tarnation renown), Mitchell and co-founders Mia d'Bruzzi and Cecelia Kuhn were so sick of touring they called it quits. Now Mitchell, who works part time for the San Francisco Department of Elections, feels it's time for a Frightwig renaissance, which kicks off with a new EP, "Hit Return" (produced by latest member Eric Drew Feldman), and an upcoming album for Southern Records, which already reissued "Cat" and "Faster" as the two-disc "Wild Women Never Die."
Looking back, can you sense the Frightwig legacy now? Well, we had L7 come to San Francisco for their very first show, to play our second record-release party. So what we did — and I know it now — is, we made it OK for those girls in all those bands. They saw us play and I think they probably felt like, "Wow! It's OK, we can do this, too!" But it's been interesting, sitting back and watching the rise of the girls, like Courtney Love. I feel like we set some bricks down in the past, so I've enjoyed seeing the women come up in the music business.
What's your new single, "Crawford," about? Well, technically, it's not new. Mia and I wrote that back in '82. There was this girl back then named Crawford who played in this band G.O.D., Girls On Drugs, and she used to get wasted on alcohol, drugs, whatever — I'm not sure. But she would be passed out at parties. And we were at this party one night, and she was passed out, and nobody really thought anything about it. But she was dead. So Mia and I wrote that song, but it was so depressing we just put it away.
How has the music business changed since you left? Record labels aren't paying for people to record unless it's somebody big, and there are a thousand times more bands now. So the only leg we have up is our history. I've spent this past year asking questions of people I respect — people in bands, people at labels. And I'm pretty realistic — there's a set group of people who know of Frightwig, not a large audience. So we need to get our name out there, become more visible, and grow an audience all over again.
---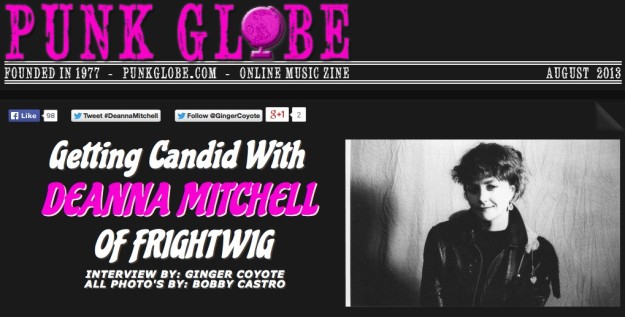 ---
Previous Press:
"Me, Kat and Jennifer Finch all watched Frightwig on the same night and all decided to start bands the next day.  Frightwig are the true grandmothers of riot grrl and everything  Without them there would be no Hole, no Babes in Toyland, no L7, no PJ Harvey, no riot grr."- Courtney Love, Hole
"I saw the first Frightwig show and was so impressed and inspired, I made it a point to never miss another.  In all its incarnations, Frightwig WAS the San Francisco music scene.  Their sheer intensity horrified and inspired a whole breed of musicians.  Bands like Flipper and The Dead Kennedys were threatened by their talent, and because they weren't so into playing with boys or keyboards at the time I had no choice but to settle for playing with Faith No More." – Roddy Bottum, Faith No More
"One of the coolest, scariest bands ever.  They were grungy while Mudhoney was still in diapers." – Donita Sparks, L7
"Frightwig are one of the originals.  They were raw, real and very rocking.  Definitely worth checking out." – Mike Bordin, Faith No More