By Kevin L. Jones

Cecilia Kuhn, whose drumming for the fearless feminist punk band Frightwig inspired countless musicians, has died of cancer. She was 61.
Frightwig bassist Deanna Mitchell posted on the band's Facebook group last week that Kuhn had died that Thursday.
"Cecilia is released from the troubles of daily life," Mitchell wrote.
Kuhn was an essential component of the San Francisco-based, all-female punk band that made its mark during the male-dominated hardcore scene of the 1980s. Frightwig guitarist Mia Simmans said that Kuhn's musicianship and fearlessness in the face of rowdy, chauvinistic punk audiences propelled the band to pursue more than just the occasional show. With Kuhn as the band's battery, Frightwig would go onto record two albums and inspire bands like Hole, Babes In Toyland, and Bikini Kill.
"She was really good at saying yes. We all were, but she had her life together," Simmans said. "She was more organized than Deanna and I ever were, and her spirit was clear. She was like, 'Yeah, let's rock. Let's kick the ass of the world.'"
Simmans added: "She was also the only one of us who owned a vehicle."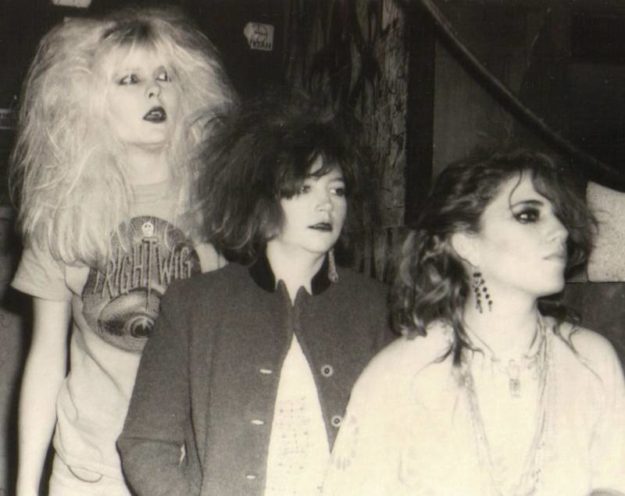 Raised in Arkansas, Kuhn came to drums late in life, picking up the sticks on a whim in her 20s and living in California. From a 2013 interview she did with Tom Tom Magazine:
I was sitting there, contemplating my boring life and flying into L.A. I looked out the window as we were landing, and I said, "F*ck this, I'm learning drums." I started drum lessons soon after that. Playing drums just seemed like a good antidote to the stupid life I was leading. Little did I know what a major decision that was.
Mitchell and Simmans started Frightwig in 1982, and Kuhn was an early fan who helped the band out as a roadie, including setting up the drum kit and transporting it to shows. Before long, Kuhn took her rightful place behind the kit and became the band's drummer.
Tall, with big blonde hair and a penchant for wearing boxer shorts and Converse high tops, Kuhn was frequently described as being "intimidating" on stage, which Simmans credits to her physicality and "fierceness." She was also a musical triple threat, bringing drum and guitar skills to the band, as well as a beautiful singing voice.
"She was by far the best singer out of all of us," Simmans said.
But according to Kuhn, other musicians she played with outside of Frightwig rarely complimented her other than saying, "You play well for a girl."
"Meaning, I didn't play better than any of the guys," Kuhn would say years later. "There seems to be an automatic comparison or competition going on, and some people feel like it's real important that I understand my place in the hierarchy."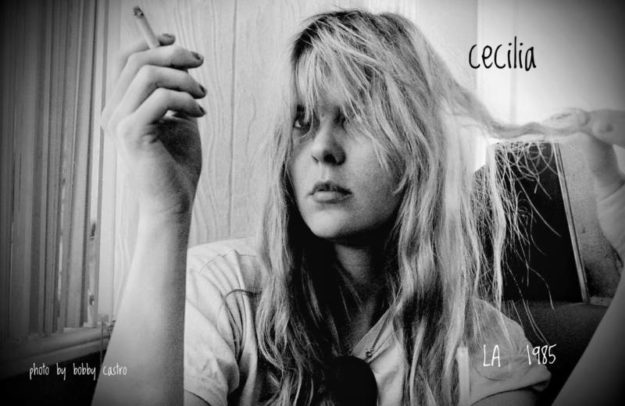 Though Frightwig was beloved by bands such as the Butthole Surfers and Flipper, the audiences they faced were frequently hostile. Crowds often spat on the band and catcalled the band members.
"They were all bro dudes — bro-douches. I'm sure they all grew out of it, but at the time, when the hardcore scene came in, they did not know what to do with us," Simmons said.
Frightwig went on to release two celebrated albums — Cat Farm Faboo and Faster, Frightwig, KILL! KILL! — and several EPs. In tours of the United States and Europe, they inspired women everywhere they played to pick up instruments.
"On June 6, 1985, I went to the Gorilla Gardens in Seattle to see GBH. The band that opened was Frightwig. 4 women from San Francisco playing noise rock and giving absolutely ZERO f*cks about the guys with liberty spikes shouting at them after every song. I bought their record Cat Farm Faboo and listened to it every single day for the rest of that summer," Hole drummer Patty Schemel wrote on Facebook.
"Seeing Frightwig as a teenage punk rocker was one of my very early introductions to feminism. They were hugely influential on the late 80's/early 90s punk rock feminist scene that happened here, and Cecilia, in particular, was an inspiration to me personally. As a drummer, singer, songwriter, and performer, she was completely amazing and awe-inspiring," Bikini Kill drummer Tobi Vail wrote.
Kuhn left Frightwig a few years before the band broke up in 1994. When the band was asked to reunite for the Punk Rock Reunion back in 2012, Kuhn resisted at first, but jumped right back in. At the time, she lived and worked for a county outside of Sacramento, and she'd drive four hours to practice with the band on weekends.
"She loved playing. She would come from her county clerk job in her old lady clothes, put on black jeans and rock it so hard," Mitchell said.
Mitchell said that before the reunited band's big show opening for Faith No More in 2015, Kuhn started showing signs of illness, but it didn't stop her from fulfilling her band duties.
"Back in January of 2015, when we starting rehearsing for the Faith No More show, she was ill then and was losing weight. By that April she had lost so much weight," Mitchell said.
Mitchell said that Kuhn was a private person and asked that her diagnosis not be shared with the public. But her illness shocked the band, who saw her as the pinnacle of health. While the band partied hard during the '80s, she stayed in control and never picked up a drug habit. She was also a dedicated vegan who spent many hours during their later tours looking for vegan restaurants in the towns they played.
"I remember her writing us and saying something like 'What happened to me is no one's fault. God isn't punishing me, I didn't do anything to deserve this. It just happened,'" Mitchell wrote.
Mitchell said that the band is working with Kuhn's coven — she was a dedicated pagan — on a celebration of her life. The event will be private, and planned for Father's Day.
"We're going to smash the patriarchy one last time," Mitchell said.