Back when the pioneering punk band Frightwig released their first album in 1984, the minimum wage in San Francisco was $3.35. That's how much bass player Deanna Mitchell and guitarist Mia d'Bruzzi, who have been friends since the age of 16, earned working at arthouse movie theaters along Market Street. At the time, that was enough money to afford the archetypical lifestyle of a musician.
"It was tight, but we didn't care. … I lived in a number of s—tty warehouses. You paid your rent, we didn't eat much, but it was doable," said d'Bruzzi, speaking alongside her bandmates outside Duboce Park Cafe on Sanchez Street.
Thirty-nine years later, Mitchell and d'Bruzzi are still making music under the same band name and are releasing a new album, which they're set to debut Friday, Sept. 29, at Bottom of the Hill alongside veteran drummer Tina Fagnani. Titled "We Need to Talk," the LP is full of the type of vitriol that made them an influence on a generation of bands like L7, Hole and Bikini Kill, whose drummer Tobi Vail cited the band as an early introduction to feminism after original drummer Cecilia Kuhn's death in 2017.
Although often considered to have laid the groundwork for the "riot grrrl" feminist musical movement of the early '90s, Frightwig's members dodge that label, as well as most other musical pigeonholes. They identify with the punk rock ethos rather than adhering to its musical associations and describe themselves as "cavewoman rock." Their most popular song, "My Crotch Does Not Say Go," shares more DNA with no-wave bands from early '70s New York than the loud-and-fast power chords of fellow San Francisco punks and former labelmates Dead Kennedys. But in the early '80s, there was something inherently punk about a loud, all-female rock band.
"We really wanted to play with what the status quo of womanhood was supposed to be visually and also sonically. That's part of our mission, to really challenge what people think about what a woman is supposed to look like and to do," d'Bruzzi said.
The band formed in the winter of 1982 when both d'Bruzzi and Mitchell were laid off from their jobs. They settled on the name Frightwig, inspired by a popular slang term at the time.
"It's slang for a woman who has been out drinking cocktails, and she started out looking pretty good. Then it's just the end of the night …" said d'Bruzzi.
"Her tights are ripped, her lipstick's smeared," Mitchell added.
"Mascara's down the face, and she's still tipsy," d'Bruzzi said.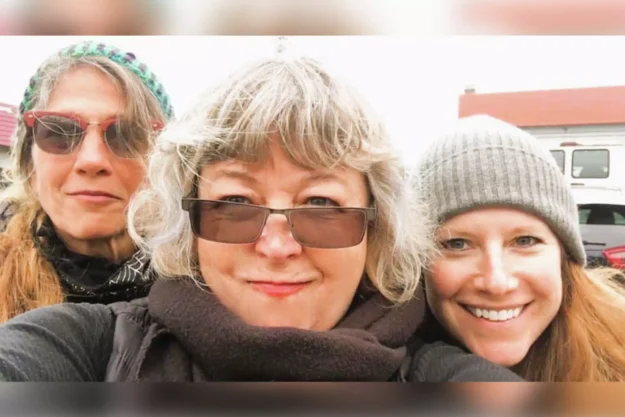 Like many punk rockers, Frightwig's members started their band while they were still musical novices, creating what they referred to as "bad noise." Soon enough they were playing gigs at now-legendary San Francisco venues like The Farm and Mabuhay Gardens. The bandmates said their identity as an all-female band did open some doors, but also brought out "the wrath of the sexist assholes."
"We got a lot of sexism. People would tell us we sucked. Which we kind of did. But they would keep doing it. 'You sucked last week. I saw you tonight and that sucked. Next week you're going to play again, right? I bet you're going to suck.' They'd keep coming back and keep coming back," said Mitchell.
"They wanted us to suck was the thing," d'Bruzzi added.
"But you keep practicing and get better at what you do. That's what happened," Mitchell said.
As a response to sexist criticism, the band wrote the song "A Man's Gotta Do What a Man's Gotta Do." When performing it live, they called men from the audience onstage to strip, essentially turning the tables on stereotypes of objectification.
Just as their first album, "Cat Farm Faboo," was released on San Francisco-based punk rock label Subterranean Records (which had released Dead Kennedys' seminal "Nazi Punks F—k Off!" single a few years prior), Frightwig was invited to tour with legendary Texas oddballs Butthole Surfers. They traveled to New York to meet the band, which resulted in an extended stay on the Lower East Side and gigs at fabled venues like Danceteria and Pyramid Club. On tour with Butthole Surfers, they found themselves playing in venues reminiscent of the one portrayed in the 2015 punk rock horror film "Green Room."