IN THIS CRAZY WORLD, REJOICE! FRIGHTWIG ARE BACK! WEST COAST TOUR ANNOUNCED FOR JUNE! PLUS A RELEASE OF A NEW 45 RECORD!
Frightwig are currently booking shows in Eugene, Ore., Portland, Ore., Seattle, WA., and Vancouver, B.C., we are interested in working with you!
Please contact us at deannam146@gmail.com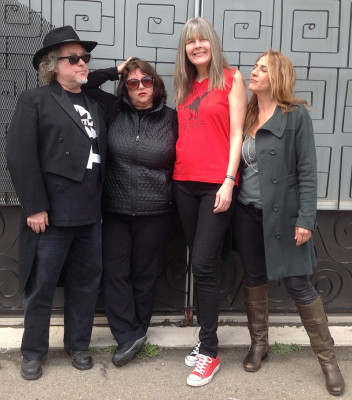 With the world teetering towards further chaos, it is the perfect time for the original muse of riot grrl to return in all their loud, proud, pioneering-punk rock glory.
Frightwig! The band that influenced and opened international doors for everyone from L7 to Bikini Kill, are back!
Frightwig! The band who have played with the crème de la crème of alternative bands from the Butthole Surfers to The Jesus and Mary Chain to Redd Kross to Sonic Youth, are back!
Frightwig! The band who told you it was a "Crazy World" we live in, who made clear they knew that "A Man's Gotta Do What A Man's Gotta Do" and who roared at you that "My Crotch Does Not Say 'Go'" are back!
Frightwig are releasing two new songs, a 45 record of "Hear What I Say" and "War on Women". These powerhouse songs are needed for this day in time. Rise Up!
Frightwig released an EP titled 'Hit Return' in December 2013, which contains four previously recorded favorites plus one new tune, "Crawford's Song".
Frightwig's line-up consists of Deanna Mitchell on bass & vocals, Mia d'Bruzzi on guitar & vocals, Cecilia Kuhn on drums, vocals. Plus the addition of keyboardist (and producer) Eric Drew Feldman, whose work with Captain Beefheart, PJ Harvey, The Pixies and Frank Black, makes him a boy worth letting in!
Also visit us at: frightwig.org and facebook.com/pages/Frightwig. Follow us on Twitter @frightwigdeanna and @cfrightwig