Frightwig at MEOW Con : Populism
Populism features a write up on MEOW Conference and Frightwig:
"And then there was Frightwig. In the 1980s this Bay Area band created a spectacular racket of psychedelic psych-outs and righteous bitching. The Runaways sang about being the Queens of Noise, but Frightwig truly were. Their glorious outrage blew open doors through which the Lunachicks, Babes in Toyland, Hole, L7 and Riot Grrrls came streaming/screaming. Then they disbanded, had kids, and became costume designers and Mudwimin.
And now they're back. The four women of Frightwig (plus ace keyboardist Eric Drew Feldman, of PJ Harvey and Captain Beefheart fame) are all well into the second acts of their lives, but matronly they are not: Guitarist Mia Levin/d'Bruzzi is the uber-guitar-goddess. Nor has their feminist fire dimmed one iota. Singer Deanna Ashley/Mitchell was the only person I heard all weekend call out Texan assholes Rick Perry and Ted Cruz, and salute local hero Wendy Davis. Cecilia Kuhn pulled her towering physique and  gray waterfall mane out from behind the drums to resurrect the wronged-lover plaint "Punk Rock Jail Bait." She and Rebecca Tucker/Sevrin, clad in a custom black leather bustier and playing a handmade guitar, strode like Amazons on the puny stage. Hell hath no fury … by song's end Kuhn abandoned vocals for a Tourette's explosion of sign language, no translation necessary."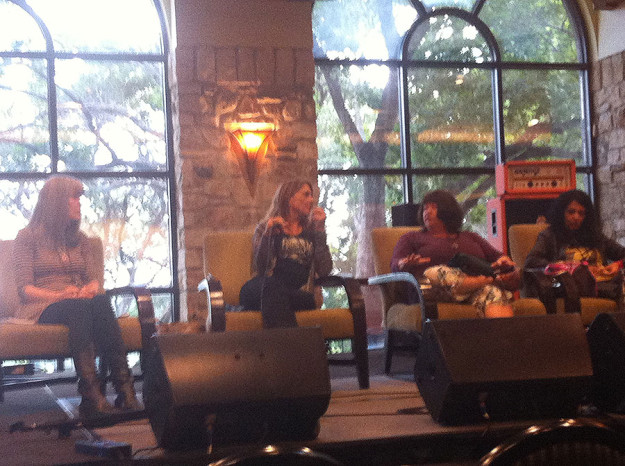 Click here to read the full article.